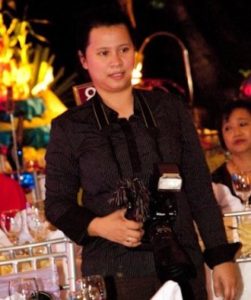 Hi, I'm Elena Mofar! I created this website to help aspiring Pinoy Network Engineers to reach their goal in becoming CCNA Certified.
I'm a Licensed ECE, RHCE, CCNP, CCNA.
I've trained thousands of CCNAs since I first started teaching in 2009.
I was the Only Resident Instructor at Mnet IT Training Solutions (Before I decided to close it down )
Many people are asking me why close it down? We have a maximum of 35 students per class. Our schedules are all full 1-2 months before the training starts.
The Reason? The CCNA Curriculum was changed – so many topics were added that makes it impossible to discuss everything in 5 days.
Our normal training day starts at 8am and ends at 10pm – sometimes later.
I talk non-stop for the entire day. Hindi ako kagaya ng ibang instructors na ang hilig magpa-break :p (Wala ng ginagawa kundi magpakain ng magpakain – such a waste of time)
The only break my students had is a 30minute lunch break, 30 minutes working dinner break, and tig-5 minutes wiwi break.
All of this just to make sure that I cover the most topics that I can. To make sure na naintindihan ng mga students ko lahat.
Why? Because I know the value of their time and money.
Because I was a student before.
Alam ko yung feeling na ma-badtrip sa instructor dahil walang kwenta.
Alam ko yung feeling ng halos mamatay sa antok dahil walang paki yung nagtuturo kung nage-gets ko ba o hindi. (Pero in fairness, ang galing nilang mag-english at magbasa ng powerpoint).
Alam ko yung feeling na hindi ko alam kung ano nangyayari. Alam ko matalino naman ako – pero bakit wala akong ma-gets?
Gusto kong magtanong. Pero ano nga itatanong ko kung wala naman akong maintindihan?
Yung magpapaturo ako sa instructor kasi ginawa ko na lahat pero ayaw talaga gumana – and ma-badtrip sya sakin kasi nagpapaturo pa ako at mapagbintangan na 'Wala akong dugong Cisco'. tsk.
Or, READ THE FUCKING MANUAL ( Sa Linux naman 'to. Bwisit talaga yung instructor ko dun).
Yung feeling na sana pinang-Hongkong ko na lang yung training fee na binayad ko, sana masaya pa ako kasi nakita ko si Mickey Mouse.
In fairness, dahil sa lahat ng mga instructors na napagdaanan ko – natuto ako.
Natuto ako kung paano HINDI magturo. Kung paano wag sila gayahin.
But still I can only do so much.
All of my previous students back when I was teaching classroom trainings can attest – todo effort ako pag may klase.
Pero sa dami ng topics – hindi ko na kinaya yung todo effort.
Nasira yung singing career ko. haha. Nasobrahan yung lalamunan ko kakasalita.
So I decided to rest – and closed down Mnet.
I decided to pursue my lifelong passion and enrolled in a Culinary School.
Magtatayo ako ng restaurants.
Pero, hindi pa ngayon.
I know that I owe it to some people that wants to pursue a CCNA career. Sayang yung God-given talent ko for teaching 
Alam ko yung quality ng mga bootcamps ngayon – same pa rin when I was a student.
Most of them (Not all) pera-pera na lang.
They don't care about the students.
So, I decided to teach again.
Pero hindi na classroom training (Or, bootcamp if you want to call it that) – hindi na kaya ng lalamunan ko yung maghapon na nagsasalita.
I decided to deliver my teachings online.
Why? To reach more Pinoys. Most of my students now are Filipinos living abroad, or in the provinces.
Based sa experience ko on teaching so many students at once – I have developed a teaching methodology that makes Cisco easy to understand.
And thru words – guide my students to setup, configure and troubleshoot without me needing to be always by their side.
I've already trained thousands of once aspiring Network Engineers who are now employed to the biggest telcos and Fortune 500 companies in the Philippines and abroad.
Minsan nagugulat na lang sila, isang buong NOC (Network Operations Center) team puro previous students ko 
Let me bring that experience to you. Let me guide you in reaching your Career goals – Be a Network Engineer.
You can view innumberable feedbacks from my previous students. You can search around the internet for previous student comments about how I teach. 
My previous student
about me.
I trained for CCNA on-hand or bootcamp for "intensive" daw na 5 days training (Di ko na sasabihin anong bootcamp center). I am not satisfied with the bootcamp training I attended in. So I tried MNet. First I was hesitant kasi online training sya. I checked their curriculum at sobrang daming topic to learn. It took me couple of month to finish it. Ang dami kong natutunan kay Maam Elena. Sobrang granular ng lessons. Di sayang pera nyo. Top recommended for CCNA training ko tong MNet. Kudos to MNet Solution!
I passed the CCNA exam last Oct 3. I highly recommend the training videos of MNET. Very effective po yun approach/way of teaching ni Ma'am Len na kahit w/ zero background ka pa, you could easily catch up. Another thing na nagustuhan ko sa training course na to is nababalik balikan ko yun videos if ever na nalilimutan ko yun topics. I hope mag-release na po kayo ng CCNP training videos. 🙂Thank you po Ma'am Len & MNET! 🙂
Thanks to Mnet and Mam Len for the easy to learn teaching approach. Talagang from zero to Hero. Ang maganda pa pwedeng mong ulit ulitin to fully grasp the concept. The best talaga ang Mnet, More power!!! I passed my CCNA exam on August 20. Thanks to Mam Len and MNET.