Looking for a CCNA Training Center offering Bootcamps or CCNA Modules in the Philippines? 
If you decide on studying on a classroom environment – there are 2 types of CCNA  trainings available – bootcamp type and the per module type.
What's the difference?
Let's say, you don't have any idea about networks or you are just a beginner – but you have the desire to learn and achieve the CCNA certificate – taking a per module training is the best for you.
Why? The training is slow paced, and it discusses every nitty detail of the CCNA curriculum since the module lectures are designed specifically by Cisco for the CCNA exam. Everything that is included in the exam is covered.
This Ebook would be the only guide you will ever need to start off your CCNA Certification Pursuit. 
📌Gusto mong maging CCNA pero hindi mo alam kung paano mag-umpisa?
Download the FREE Ebook:
**Download Link would open in your Facebook Messenger**
Covered nito lahat ng kakailanganin mo para mag-umpisa mag-aral towards that CCNA Certification, anong exams ba ang kailangan, ano ba talaga ang meron sa loob ng exam, paano mag-aral.. Yan at marami pang iba.
The CCNA curriculum comprises of 4 modules:
Module1 – Introduction to Networks
Module2 – Routing and Switching Essentials
Module3 – Scaling Networks
Module4 – Connecting Networks
Each module is 60 – 70 hours long.
The CCNA modules are offered by Cisco accredited academies.
As an academy student, you would be given a Cisco Academy login account where you can access the study materials online.
The study materials is like an online book. Topics are presented in a web based flash like format, with animations as to how networking technologies work.
These study materials are the same materials used in training. And since this is accesible online, you would still have access to it even at home.
How about the hands-on exercises?
Cisco released its own simulator called the Packet Tracer.
Packet Tracer is installed in your computer and lets you configure Cisco routers and switches without the need for real hardware. Most Cisco academies don't use real devices for their hands-on exercises since Cisco recommends using the Packet Tracer for configuration lab exercises.
Packet Tracer is also the same tool used by Cisco for simulation type questions in the CCNA exam itself.
One of the advantages of being an Academy student is – if you finished all 4 modules, you would be given a CCNA voucher exam. If you pass, you would be awarded with a CCNA exam voucher. This would give you a 50% discount on the exam.
How about CCNA Bootcamps?
Bootcamp trainings by definition is a fast paced training designed for participants with background or already has previous knowledge.
So, if you already have a network background, or, you have already attended CCNA modules training, or have already studied on your own at home – and you are just refining your skills, or reviewing in preparation for taking the exam – taking the bootcamp is for you.
CCNA Bootcamps usually run for 5 days with 8-10 hours per training day.
Considering the amount of subject matter included in the CCNA exam, to be able to touch everything – teaching it should be blazingly fast!
All configurations would just be written in the whiteboard, or typed in notepad to be projected for you to follow. Don't expect the instructor to teach you what all those configurations mean. Or, what will happen if you typed one wrong, or you forget to type that one line, or what's the meaning of the outputs you see onscreen.
It is assumed that you already know all that, and all configurations are just done for you to experience configuring it or, to just have a touch of the topic. Since time is limited, don't expect to have more lab exercises than what is given. Also, don't expect to have advanced labs – time is too scarce to do it.
So, if you don't have any previous background, or haven't attended a per module training before, or haven't studied on your own for the CCNA exam beforehand – the training would be like watching a korean teleserye or japanese anime without subtitles.
You'll look like as if you understand because you can see what the instructor is doing, but really you don't  know what's happening.
You would not be able to ask anything actually, since asking something means you understand something to ask for clarification. What would be there to clarify, if you don't know what's happening, or what the heck the instructor's saying. Better be silent and act as if you understand, than open your mouth and ask the instructor to repeat everything because you can't follow (and feel dumber than it is ).
But don't worry, you would still be able to configure, since all configuration commands are projected on screen – you just need to follow what's written, and voila, your routers and switches should be working!
Students with previous knowledge will enjoy bootcamps since it is just a confirmation on what they  know, and being able to practice configurations that they have already studied on Cisco devices.
As I've said, bootcamps is advisable for people with previous knowledge and is about 50% ready to take the exam – they just need a little review to fully prepare.
So, if you have previous knowledge – go for CCNA Bootcamps.
If you have zero knowledge – don't believe the hype. Enroll in per modules training.
Please note that the CCNA training centers that I will give you are NOT listed from BEST to Worst. They are given alphabetically just so to remove any sense of bias since this post is about what are the different CCNA training centers in the Philippines – I will give my biased review of these training centers in a separate post 😉
Okay, so knowing all that, what are the CCNA Training Centers in the Philippines?
---
---
CCNA TRAINING CENTERS OFFERING BOOTCAMPS:
1. CNCTC (Computer Networking Career & Training Center, Inc. )
LOCATION:
They have 2 locations – 1 in Espana and the other one in Buendia.
I've been in their Espana branch (I've taken my CCNP exam there before).  This is located near UST, and in the same building with board exam review centers. The place is a little old, looks and smells like your grandmas's house.
COURSE FEE:  Php 19,000
This is the course fee indicated in their website last 2017. Maybe the course fee today is a little higher. You need to contact them for the updated course fee.
REAL DEVICES?  1 router, 1 switch
As per their website gallery, looks like they only have 1 router and 1 switch provided for each student. Correct me if I'm wrong, but I think the devices that they have are just for show. They have very few equipments.
My guess, CNCTC uses simulators.
IN-HOUSE INSTRUCTOR? None
STUDENT REVIEWS: None. 
Theydon't have Previous students reviews activated on their page, so we don't haveany way to know how they handle classes.
Useful Links:
2. GlobalKnowledge
LOCATION:  G/F Beacon Plaza Shaw Blvd. Mandaluyong
I haven't been in their office. But, based on this picture taken from their fanpage, the classroom environment is nice. The lighting cozy.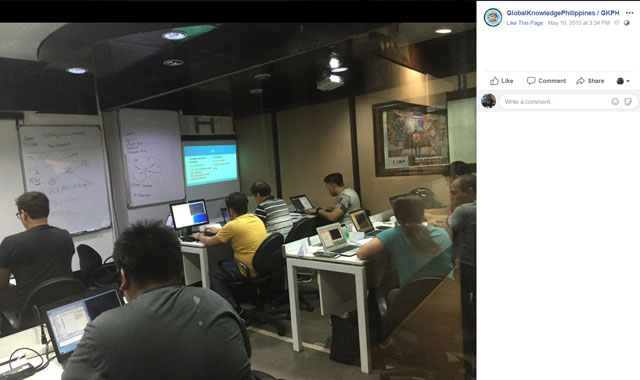 COURSE FEE:  ?
I can't seem to find Global Knowledge's course fee for their CCNA bootcamp – they call their CCNA bootcamp XTREME CCNA Program. The course fee already includes the training and exam.
Anyone already took their XTREME CCNA Program? Can you update me what their course fee is?

REAL DEVICES? No.
Looking at the picture of their CCNA class from their fanpage. There are no Cisco devices to be found.
My guess again, they are using simulators.
IN-HOUSE INSTRUCTOR? Yes.
Based from their website, their CCNA trainer is JEFF A. , though they did not divulge any information what the "A" is on Jeff's name. His and all the other instructor's identity is kept secret. Ssssh.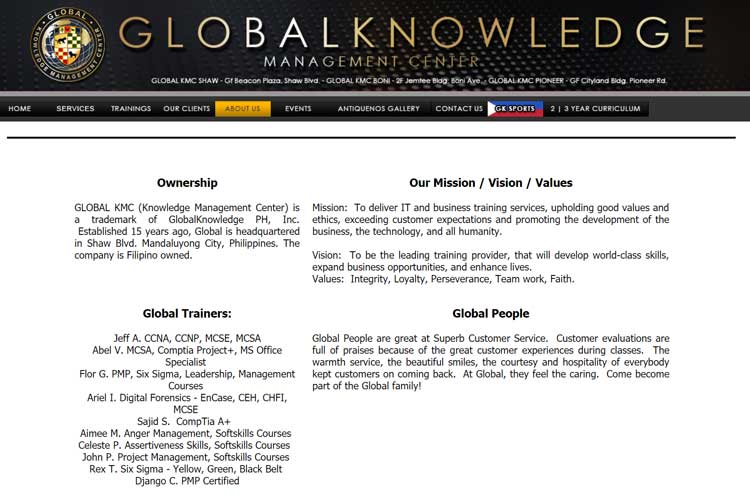 STUDENT REVIEWS:  4.5 out of 5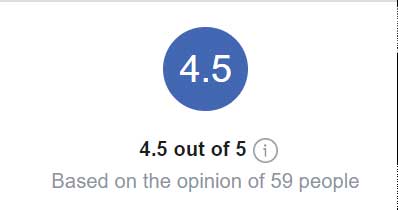 You can view their reviews here – https://www.facebook.com/pg/globalknowledgeph/reviews/
They teach other courses not just CCNA, so, the reviews is not accurate to rate their CCNA course. I advise you read thru them for any CCNA training review/recommendations.
Useful Links:
3. Ironlink
 LOCATION: 
2nd Flr. Unit 2B Newton Plaza 4408 Old Sta. Mesa Street. Sta Mesa, Manila
     I  haven't been in their office.   But based on this picture from their fanpage, the place is nice, and spacious enough for the manual and student notebook to be on the same table. Nice table setup since the equipment is in the same space as with the student. Feeling nerdy yung student. Nice 🙂
COURSE FEE:  25,000
 This course fee is their updated course fee as the time of this writing 
REAL DEVICES? Yes.
This is what they provide per student:
2 cisco routers
2 Switches  ( 1 PoE, 1 L3 switch )
2 workstations
1 video IP Phone
Not bad if you're looking for real devices to practice on. They also claim they use no simulators or you'll get your money back. So, no GNS3 and Packet Tracer here 
But, in my honest opinion, 2 cisco routers would not be enough for most CCNA labs, you need to have at least 3.  Common configuration problems would not arise with only 2 routers, and some technologies in order for the student to understand it more needs at least 4 – 5 routers.
 All configurations seems to work with only 2 routers. Configuration mistakes have a very low probability to happen, since the connection is just point to point.
The real devices are good, but the number provided is not enough for CCNA. And saying they would not be using simulators means, the student will be stucked with a 2 router configuration – which is not good.
The 2 switch setup is good enough.
STUDENT REVIEWS? Yes
They don't have a 'Reviews' feature in their fanpage.
But they have Google Reviews.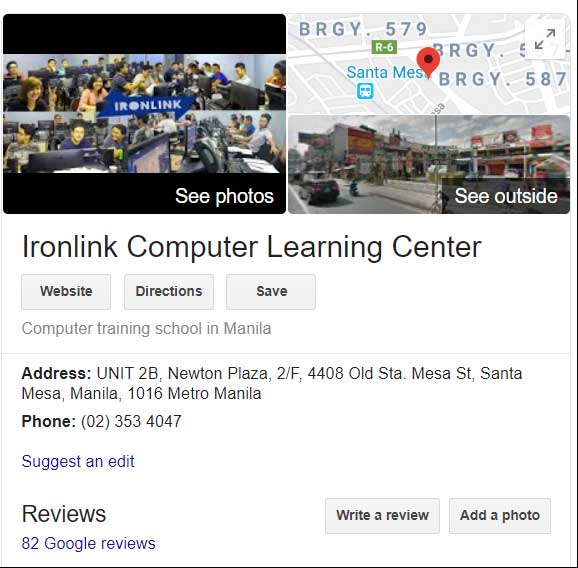 I'm not a fan of google reviews though.  We can't verify the authenticity of the reviewers. I would rather prefer they activate the 'Reviews' feature on their fanpage, and let previous students do their feedbacks and reviews there. That way, we can message the person who wrote the review if it's a real person or not. Or, maybe, you have mutual friends – that way you know that the review's not fabricated.
But, that's just me. I'm giving you my thoughts, you need to do your own research as well.
Useful Links:
4. Nexus Education Services
LOCATION: 
Unit 1611 AIC Burgundy Empire Tower, ADB Avenue Garnet & Sapphire St. Ortigas Center Pasig 1
Based on this picture from their fanpage, the training room is nice, the environment is condusive to learning. But the table is medyo masikip compared to the space given by Ironlink (which I think is of nice size for the student).
COURSE FEE:  25,000
But based on their fanpage, they often provide discounts for their trainings so do check on this if you plan to enroll with them.
REAL DEVICES? Yes
Based on the student setup above, they provide 2 routers and 2 switches per student.
Based on their fanpage, they offer a whole lot of other things in their CCNA training – like VoIP, Fiber optic crimping and so much more. You message them for a full list of these as it's so many to mention :p
IN-HOUSE INSTRUCTOR? No idea.
Spying thru their fanpage, I saw this: The guy on the right seems to be the instructor on their CCNA bootcamps. I can't find out who he is. For those who have already attended trainings from Nexus maybe you can message me here so I can update who he is and any training feedback would be good so I can update.
STUDENT REVIEWS: Yes.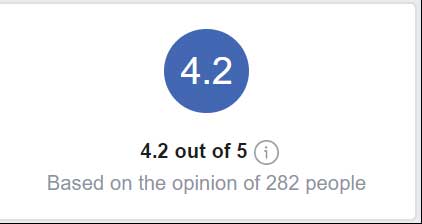 You can view Nexus Facebook Reviews here – https://www.facebook.com/pg/nexus.ittc/reviews/?ref=page_internal
Nexus also offers other courses besides CCNA as well, so you may want to scroll thru the reviews to see any CCNA training related reviews.
Just an advice if you would like to enroll with them, try to register to groups and forums – backread sa mga posts. Look for feedbacks from forum members na nag-training na sa kanila so you would have real feedbacks from them. Be vigilant is all I can say 
Useful Links:
5. Rivan School of Technology
LOCATION:  Unit A-1-2 Mendiola Square Bldg. Manila, Philippines
I've been to Rivan. The training room is nice and chilly, better bring a jacket with you if you decide to enroll with them. The classroom is full of networking equipments as Sir Robert (the owner) likes to binge buy networking equipments. As for the space provided, it's a little cramped up with little space for manuals and notebooks.
COURSE FEE: 25,000
They offer different discounts, so you need to check with them with their present promotions for additional discounts.
REAL DEVICES? Yes.
Based on the classroom setup in their facebook page, they provide 1 router, 1 switch and a VoIP phone per student. 
Their lab exercises are mostly 80% GNS3 and 20% real devices. Trust me, I know 
IN-HOUSE INSTRUCTOR? Not sure.
A few years ago, the permanent in-house instructor of Rivan is Robert Victor (the owner), he has a few apprentice that he trains to teach CCNA bootcamps. But mostly, it was Robert that teaches before. He is a very good speaker, and has lots of techniques that he teaches in his bootcamp classes. He has lots of stories to tell regarding Cisco that inspires students. So, most reviews that you will see around the internet today regarding Rivan is because it was Robert that taught them.
However,he rarely teaches nowadays, and his apprentice ( I don't know his name ) who replaced him, correct me if I'm wrong, is not teaching anymore.  If you inquire with them who will be their instructor, if it's Robert or the other one, they won't have an answer for you since they don't know who will be teaching the next class.
STUDENT REVIEWS? Yes.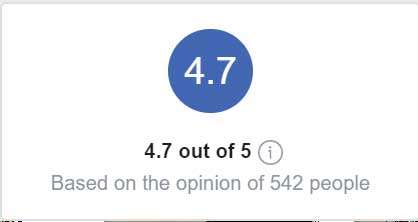 You can view Rivan's Facebook Reviews here: https://www.facebook.com/pg/RivanSchool/reviews
Rivan has very good reviews from previous students.  They teach other courses as well, so you might want to browse thru them and look for CCNA reviews. But mostly, it's all CCNA – since it's their forte.
Useful Links:
6. Whitelogic IT Training Solutions
LOCATION: 
Room 308 Dona Consolacion Bldg. Gen. Santos Ave., Araneta Center, Cubao Quezon City, Philippines
Based on images from their fanpage – the classroom has a comfortable vibe. Maaliwalas. Spacious tables for each student – it has enough space for notebooks and manuals. Just now I noticed, nice office chairs too!
COURSE FEE:  12,800
This is a discounted course fee as per the time of writing. I don't know what the full price course fee is, they don't have any info on the full course fee on their fanpage.
REAL DEVICES? Yes.
As per their classroom setup, they have 3 routers and 3 switches shared between 2 students.
So, my guess, their lab is a combination of real devices and GNS3 simulators.
IN-HOUSE INSTRUCTOR? Yes.
Stalking through their fanpage, all CCNA classes have the same instructor, and if I guess it correctly, the instructor is also the owner – which is very good.
Having the same instructor on all classes means better quality of teaching – batak yung instructor kakaturo eh 
I don't know the instructor personally, but judging on the posts and his aura – he has  passion for what he's doing, and concern for his students as well.
Student Reviews? None.
Based on their fanpage, they previously had one but the owner decided to remove the Reviews feature on their fanpage because of 1 star ratings given by non-students and people employed by a competitor training center.  I have lots of 1 star rating  in my own fanpage as well, I knew it all along that it came from competitors then – but the law of averages will still catch up and raise the ratings higher, so I hope the owner of Whitelogic returns the Reviews feature on their fanpage for future students to see.
Useful Links:
Whitelogic IT Training Solutions website: None
TRAINING CENTERS OFFERING CCNA PER MODULE TRAINING
1. Experts Academy
Locations: 
They have multiple locations – Makati, Calamba, Angeles and Cavite

COURSE FEE: No idea.
I can't find how much the course fee on Experts Cisco modules training is. But, based on industry average, it may range from 9,000 – 12,000 per module. You need to contact them for the exact course fee.
Useful Links:
2. Meralco Foundation Institute (MFI)
Location: 
They have multiple locations – they have one in Pasig, Pasay, and Dela Salle Araneta (wherever it is )
Main Campus: MFI Buidling, F. Ortigas Jr. Road, Pasig City, Metro Manila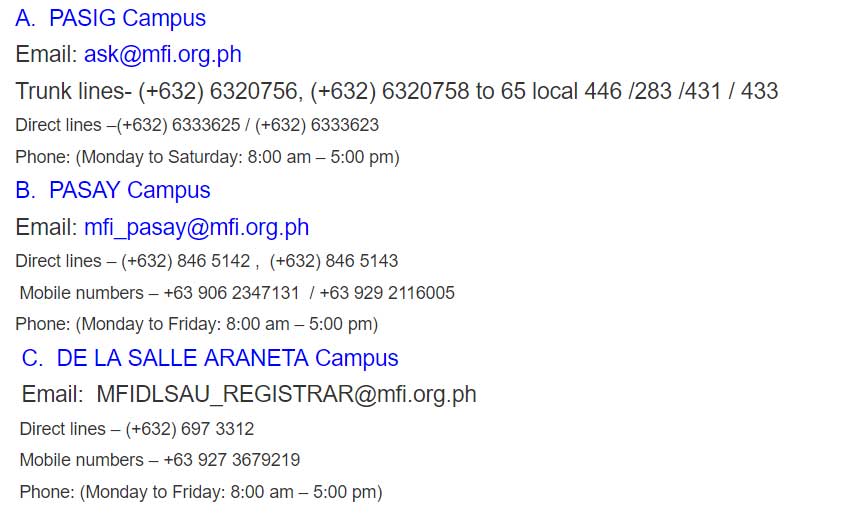 Course Fee: 9,500 per module
Useful Links:
3.  Mapua IT Center ( MITC )
Location: 
Mapua Information Technology Center
Mapua Institute of Technology Building
 G/F, 333 Sen. Gil Puyat Ave. Cor. Nicanor Garcia St.
Makati City, Metro Manila Philippines
Course Fee: Not sure.
Again, the course fee will probably range from 9 – 12k per module.  I think it's 12k but you need to contact them for the exact course fee.
---
In modular trainings, it is customary to have different instructors everytime, so I can't comment on that for sure.
Anyway, per module trainings usually follow the same process – read the module chapter from the internet, the instructor may or may not discuss what's covered in the module since it is discussed by Cisco itself. After reading the chapter, students need to take the chapter exam before proceeding on reading the next chapter from the module.
The module instructor serves as a faciliator of the module.
So, there you go. The CCNA certification is one of the most in-demand and sought-after IT certification out there, so it is normal that other training centers sprouts left and right, so I may not be able to discuss all of them. But the ones I gave you are the most visible, and most probably, they are the ones that you are considering in enrolling right now.
I hope this helps.